Definition of rare disease
When is a disease considered rare? The definition of a rare disease depends largely on its incidence and so the FDA considers a rare disease any disease that affects fewer than 200,000 Americans. This is roughly 1 in 1,655, whereas in Europe, a disease is defined as rare when it affects less than 1 in 2,000 citizens. There is, therefore, a consensus defining these affections and although these numbers may seem small, it is estimated that there are over 6,000 known rare diseases and on a whole, they may affect around 350 million people worldwide.
Treatment of rare diseases
The availability of treatments for rare diseases continues to be challenging and therefore research into therapies aimed at treating rare diseases remains one of the main challenges in Drug Discovery. Advanced therapy medicinal products (ATMP) are medicines for human use that are based on genes (gene therapy), tissues (tissue therapy), or cells (cell therapy). Its objective is to cure the disease with a single administration of the treatment, although the downside is still the very high costs that this precision medicine has for the patients.
Incentivization of drug development programs for rare diseases is at the heart of the orphan regulation, intending to benefit patients who suffer from serious rare conditions for which there is currently no satisfactory treatment. Despite the positive experience of orphan regulation with more than 2,100 molecules under investigation and 153 approved drugs, the type of scientific evidence generated and the high cost of treatments produce a significant degree of uncertainty in the decision-making processes. The absence of specific treatments for certain diseases is a palpable reality and despite advances in new models, the use of animals is still considered necessary and continues to be a constant in research.
Alternative Models for Rare Diseases
Some large projects such as the IMPC (The International Mouse Phenotyping Consortium) were launched seeking to dig into the information they can provide us. This huge consortium has established the goal of unraveling the function of a large number of genes whose actions we do not know yet. They are undertaking the task of eliminating or modifying each one of the 20,000 genes of a mouse. So far, they have already done so with 2,500, and in a couple of years, they hope to reach 5,000. More importantly, finding out similarities of their functions between humans and animals remains a critical objective in animal research.
As a result of these studies, mouse models have been found for several rare diseases that could hardly be studied, proving that at least two-thirds of the genes do not have a single function. The organization of the project itself has proposed to serve as the basis for the ambitious 'Initiative for Precision Medicine', launched by President Obama and aiming to analyze a huge amount of data from at least one million people in the coming years.
Animal models are irreplaceable for research in rare diseases since they offer key information about their pathophysiological mechanisms and potential therapeutic strategies that cannot be obtained with other alternative methods. Cell culture-based approaches and computational methods can help reduce the use of animals but are not capable of reproducing the complexity of human biology. Animals remain the best models for predicting and characterizing a particular disease in patients and are especially relevant in rare diseases since many of them are caused by mutations in a single gene.
Even though animal models contribute substantially to accelerating the development of therapies for rare diseases, their use in research is still controversial. Hence, the importance of adhering to ethical aspects and transparency as well as the need to improve disclosure to society to raise awareness of the vital importance of research with animal models for the development of treatments for rare diseases.
Zebrafish in Rare Diseases
Another aspect gaining traction in the ethical arena is the use of vertebrates with less ethical concerns than mammals. This is the case for the Zebrafish animal model. This advantageous vertebrate model complies with the 3Rs policy, implying the Replacement, Reduction, and Refinement of animals in research. When the small zebrafish larvae are under five days post-fertilization, most organs of these fish are fully developed and yet not considered an in vivo assay, helping these characteristics to position zebrafish as a strong candidate for the reduction in the use of mice. Zebrafish have also many other attributes that make this model very attractive in preclinical research including its transparency, their quick and prolific availability, the high genetic homology with human diseases (over 85%), and their cost-efficiency.
At Biobide we soon became engaged from the very beginning in establishing zebrafish as the perfect platform for rare diseases model generation and target validation. We help our collaborators find genes involved in specific processes and check the activity of the desired gene. These studies normally include technical approaches that transiently inhibit a particular gene or molecular pathway. The techniques we use more commonly at Biobide include the use of Morpholinos (MO) that use antisense DNA oligonucleotides or the use of Crispants using Cas9/sgRNAs both pursuing the same purpose, to temporarily knock down a gene expression. Other technical approaches in our portfolio for the target validation of rare diseases in zebrafish include chemically induced models and genetic mutations using CRISPR/Cas technology. All of these techniques applied on zebrafish share the advantages of being a fast, cost-effective, statistically significant, and highly reproducible model.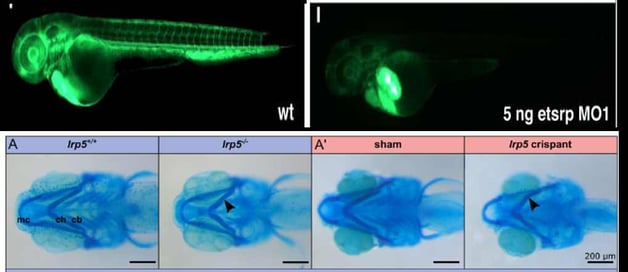 Target validation with MO for blood vessel development, and with Crispants for osteoporosis.
At Biobide we are proud to be a contract research organization at the forefront of preclinical research developing zebrafish assays and offering numerous models tackling rare diseases including Amyotrophic Lateral Sclerosis (ALS), Duchenne Muscular Dystrophy (DMD), Tauopathy, Dravet Syndrome, Spinocerebellar Ataxia (Machado-Joseph Disease), Spinal Muscular Atrophy, Angelman Syndrome, Huntington Disease, Batten disease, Gaucher Syndrome, Cystic fibrosis, Retinitis Pigmentosa, or Usher Syndrome among others.
Future challenges for research with animal models include the usefulness of uniting the information available in animal databases with that of the orphan drug evaluation committees of international agencies.